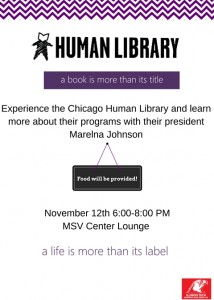 Join Residence and Greek Life and the Diversity and Service Learning Committee as we bring you the Human Library.
The Human Library is a unique event that allows people to have a conversation about diversity in a unique way. Marlena Johnson, the president of the Chicago branch of the Human Library, will speak on the history behind the human library, what the event looks like and how you can get involved.
We will be in the McCormick Student Village(MSV) Center Lounge on Thursday, November 12 from 6-8 p.m. Free pizza will be provided.
If you have more questions email Residence Hall Director Keith Wise at kwise1@iit.edu.
This event reflects the values expressed in IIT's Diversity Statement and is intended to promote diversity at Illinois Tech.