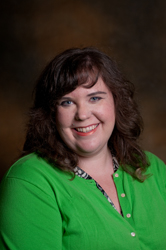 The computer game Assistant Professor of Digital Humanities and Media Studies Carly Kocurek has been developing over the past year, Choice: Texas has been accepted for the Different Games Arcade, part of the Difference Games conference, an annual student and volunteer-led conference on diversity and inclusivity in games presented by NYU School of Engineering's Integrated Digital Media Program in partnership with the Georgia Institute of Technology's Digital Media Program. The conference is taking place in Brooklyn April 11-12, 2014; the Arcade takes place on April 11.
Choice: Texas is an educational interactive-fiction game addressing reproductive healthcare access in the state of Texas. Players navigate the state's reproductive healthcare system through the eyes of one of five fictional Texas women. "We wanted to add to the conversation about reproductive healthcare access in Texas," Kocurek said. "Women dealing with unexpected or complicated pregnancies have a hard time no matter where they live, and with the dearth of services and the strict regulations in Texas, things can be incredibly difficult."
The game's characters include Latrice, a Houston attorney with a long-term boyfriend, a high-pressure career, and a number of family obligations; Leah, a small-town bartender living with her parents as she saves money and plans for her next steps; Alex, a promising high school student weighing her options for college and trying to live up to her family's expectations; Jess, a young Austin-area professional looking forward to starting a family with her husband; and Maria, a licensed vocational nurse and mother trying to create a comfortable home and future for her children. Each character is a composite, reflecting and combining the real, live experiences of Texans.
"Our goal is to walk people through what reproductive healthcare access might look like for different women in Texas," Kocurek said. "What's it like in a city? What's it like when you're young? How about when you're a working professional? When you're financially insecure? We wanted to make something that was engaging and accessible. There's so much great information available, but it can be overwhelming. We thought the game would be a way of sharing some of that information while also engaging the players in that rhetoric of choice in a pretty literal way. In the game, players go through and try to make decisions as the characters – things like who to talk to, where to seek information."
Choice:Texas is set for release as a free-to-play web game. It is a collaborative development project by Kocurek and writer and activist Allyson Whipple, and it features original illustrations by artist Grace Jennings.