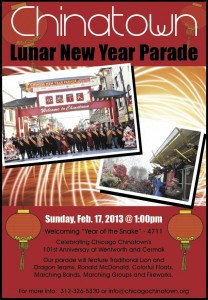 Chinese New Year, also known as the "Spring Festival," is the longest and most important festival of the Chinese lunar calendar. In 2013 the new year starts on February 10, marking the beginning of Chinese year 4711, the Year of the Snake.  The holiday traditionally runs through the Lantern Festival on the 15th day of the first month, and is celebrated by populations of Chinese heritage throughout the world.
IIT celebrates Chinese New Year with Chinese inspired cuisine in the Commons on February 11, and encourages all to participate in celebrations at nearby Chinatown and elsewhere in the city.
Global Cuisine: Chinese Inspired Cuisine
Monday, February 11
11:30 am – 1:30 pm
Patrons of the Commons Cafeteria are invited to decorate a dragon or lantern during lunchtime.
Chinatown Lunar New Year Parade
Sunday, February 17
Wentworth and Cermak
Parade starts at 1:00 pm
The campus community is invited to participate in this festive parade, which will feature Traditional Lion and Dragon Teams, Ronald McDonald, Colorful Floats, Marching Bands, Marching Groups and Fireworks.