On August 28, 1963, Martin Luther King, Jr. delivered his famous "I Have a Dream" speech at the Lincoln Memorial in Washington, D.C. In celebration of this great leader, the IIT community is invited to revisit this famous speech in which he called for racial equality and an end to discrimination on Tuesday, January 17.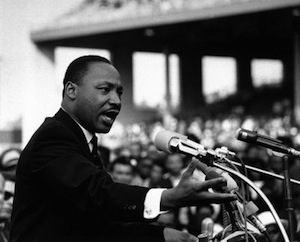 Join other students, faculty, and staff in the Commons during lunchtime (12 – 2 pm) on Tuesday for a program entitled "My Dream Is ________". Discover more about MLK and the civil rights movement and share your vision for the future of the movement. You will also have the opportunity to tell the campus community about your ideas on how to make your dreams a reality. Photos will be taken of individuals with their dream statement and posted online and in the cafeteria. The submission of your dream statement will enter you into a raffle where you can win lunch certificates for two in the Pritzker Club. Sodexo is also offering a special lunchtime menu for $7.15.
For more information please contact the Student Center for Diversity & Inclusion at scdi@iit.edu. Follow the MLK movement on FB at IITSCDI.
This program is sponsored by the office of Spiritual Life & Service Learning, Sodexo, Shimer College Office of Student Life, VanderCook College of Music, and the Student Center for Diversity and Inclusion.