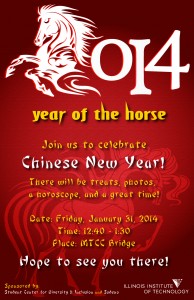 2014 is the Chinese Year of the Horse. Join the Student Center for Diversity and Inclusion and Sodexo in celebrating the Chinese New Year on Friday, January 31, 2014, 12:40 – 1:30 pm at the McCormick Tribune Campus Center Bridge.
There will be treats, photos, a horoscope and a great time!
This event reflects the values expressed in IIT's Diversity Statement and is intended to promote diversity at IIT.