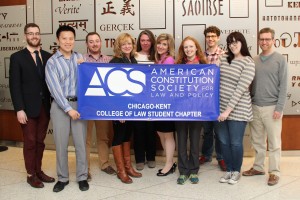 IIT Chicago-Kent College of Law's American Constitution Society (ACS) Student Chapter was named ACS Student Chapter of the week of April 21, 2014.
The chapter, under the guidance of former faculty advisor Professor Carolyn Shapiro and current faculty advisor Professor William Birdthistle, has grown from a small, inactive chapter, to one of the most active student organizations at IIT Chicago-Kent, holding more than 20 events this year.
The first event last fall was an all-day conference on conservative and progressive federalism, with a keynote address by Joel Rogers, founder of the American Legislative and Issue Campaign Exchange (ALICE). Other fall events included a Government Transparency panel; a Constitution Day event; a U.S. Supreme Court term preview; a panel on civil rights and national security featuring Assia Boundaoui, Producer of the Emmy Award-Winning HBO Documentary "Manhunt" and journalist for Al-Jazeera; an event on national security with William Ridgway, Assistant United States Attorney in the Counterterrorism Unit, and Professor Henry Perritt, Jr.; a discussion of the Defense of Marriage Act's impact on immigration law; and a public interest careers panel. The chapter's final event of the fall semester was a viewing of "Gideon's Army."
The spring semester began with a panel on student interns' and recent graduates' employment rights, followed by events on Human Trafficking Awareness, Money In Judicial Elections, and pathways to legalization for undocumented immigrants, featuring Dan Stein of the Federation for American Immigration Reform and Dave Gorak of the Midwest Coalition to Reduce Immigration, among others. The most attended event of the year was an oral argument before student judges on Hobby Lobby v. Sebelius between Dean Harold Krent and Professor Kent Streseman, director of the school's Appellate Advocacy Program. The chapter plans to round out the semester with a talk by IIT Chicago-Kent alumnus and State Senator Kwame Raoul '93 on his Illinois Concealed Carry legislation and a networking event cosponsored with the Chicago Lawyer Chapter.
In just a year, the chapter has taken incredible steps toward "Shaping Debate, Building Networks, and Making a Difference" on its campus. The chapter is led by President Dana Pownall '14 and a 12-member executive committee.