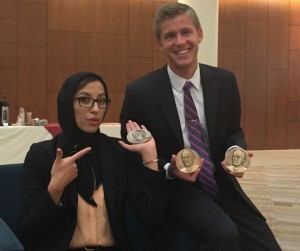 Third-year IIT Chicago-Kent students Iman Boundaoui and John Jefferson will represent the law school in the National Moot Court Competition national finals in New York February 9 to 12, 2015. The IIT Chicago-Kent team won the regional tournament held November 8 and 9 at Marquette University Law School in Milwaukee, with Jefferson receiving individual honors as the competition's best oral advocate.
The National Moot Court Competition, sponsored by the American College of Trial Lawyers and the New York City Bar Association, is the nation's oldest and largest appellate advocacy competition. Fourteen law schools from Illinois and Wisconsin competed in the Region 8 tournament. IIT Chicago-Kent and the second-place team from Loyola University Chicago will join 28 teams from 14 other regions for the national finals.
This will be IIT Chicago-Kent's fourth consecutive appearance in the finals and its ninth berth in the last ten years. In 2008 and 2009, IIT Chicago-Kent became the first law school to win back-to-back national championships in the tournament.
Winning team member Iman Boundaoui completed her undergraduate education in political science at Northwestern University. Teammate John Jefferson received a degree in English literature from Westmont College in Santa Barbara, California.
A second team from IIT Chicago-Kent reached the competition's quarterfinal round. Third-year students Teri McClerklin, Jacob Radecki, and Eric Shinabarger unanimously defeated teams from the University of Wisconsin Law School and the John Marshall Law School before losing in a close decision to a team from Marquette University Law School.