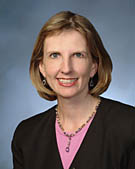 IIT Chicago-Kent College of Law Professor Elizabeth De Armond has been named director of the law school's Legal Research and Writing Program, effective July 1, 2014.
A member of the IIT Chicago-Kent faculty since 2003, De Armond teaches first-year courses in legal research and writing and an upper-level course in privacy law. Her scholarship interests include consumer protection and information privacy issues. Since 1998, De Armond has been a contributing author for National Consumer Law Center publications, for which she writes about fraud, RICO and credit reporting.
"I benefit from the 13 years of care and energy that our current director, Professor Mary Rose Strubbe, has invested in constructing this program," De Armond said upon accepting her appointment. "She, Associate Director Susan Adams, and the rest of the legal writing faculty have created an exceptional program. I look forward to continuing the tradition of excellence. I will capitalize on our time-tested teaching techniques combined with new media and information technology tools to instill in our students those skills they need to thrive in the modern legal market."
De Armond earned her undergraduate degree in information and computer science from Georgia Tech. She graduated magna cum laude from Notre Dame Law School, where she served as articles editor for the Notre Dame Law Review. After law school she clerked for the Honorable Cornelia G. Kennedy of the U.S. Court of Appeals for the Sixth Circuit.
Following her clerkship, De Armond practiced in Dallas, where she concentrated in real estate and lending transactions. She also represented battered women in family court on behalf of North Texas Legal Services. De Armond later moved to Boston, where she earned an LL.M. from Harvard Law School.
In her new position, De Armond will have primary responsibility for the first year of IIT Chicago-Kent's multi-year Legal Research and Writing Program. In addition, IIT Chicago-Kent is searching to fill the newly established position of director of experiential learning. The new director will coordinate and oversee the upper-year legal writing curriculum and work closely with De Armond and others to ensure that students receive the training in writing, negotiations, project management, client counseling and other skills to thrive in today's legal environment. The director of experiential learning will also head the Praxis Program, which facilitates the efforts of interested students through clinics, externships, and simulations to become familiar with all of the attributes of successful lawyering.