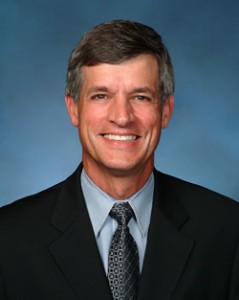 IIT Chicago-Kent Professor Ronald W. Staudt was elected president of the College of Law Practice Management (COLPM) at the organization's futures conference and annual meeting October 25–27 in Washington, D.C.
The College of Law Practice Management was established in 1994 to showcase outstanding individuals, programs and projects that help attorneys build and maintain their law practices. In September 2004, Professor Staudt was inducted into COLPM as a fellow "in recognition of his dedication to using technology to enhance the practice of law and create a more accessible legal system." In 2006, he was named to the organization's board of trustees.
A member of the IIT Chicago-Kent faculty since 1978, Professor Staudt teaches courses in Copyright Law, Intellectual Property Strategies, Internet Law, Public Interest Law & Policy, Justice and Technology Practicum, and Access to Justice and Technology. In 1983, he founded IIT Chicago-Kent 's Center for Law and Computers to promote the use of computers and other electronic technologies in the teaching, study and practice of law.
Professor Staudt currently is director of the Center for Access to Justice & Technology (CAJT)—a law school center using Internet resources to improve access to justice with special emphasis on building Web tools to support legal services advocates, pro bono volunteers and pro se litigants. Current CAJT projects include the law school's Public Interest Certificate program; A2J Author®, a collaboration with the Center for Computer-Assisted Legal Instruction to build new computer interfaces for self-represented litigants; and the Self-Help Web Center at the Cook County Courthouse in the Daley Center, where law student volunteers help self-represented litigants to use technology tools developed at CAJT.
In 1998, Professor Staudt was appointed Illinois Institute of Technology's associate vice president for law, business and technology. He currently serves as director of IIT Chicago-Kent's Center for Access to Justice and Technology, which develops Internet resources to support self-represented litigants and the attorneys who assist them. Professor Staudt also directs IIT Chicago-Kent's J.D. certificate program in public interest law.
Professor Staudt received undergraduate degrees in mathematics and philosophy from St. Joseph's College. He earned his law degree from the University of Chicago Law School, where he was a member of the law review.
Prior to joining IIT Chicago-Kent, Professor Staudt practiced with the firm of Hubacheck, Kelly, Rauch & Kirby. He also served as staff attorney and assistant director of the Pima County (Arizona) Legal Aid Society, and as a clinical fellow and lecturer at the University of Chicago Law School's Edwin F. Mandel Legal Aid Clinic. Professor Staudt is a member of the ABA Law Practice Management Section's E-Lawyering Task Force, and the ABA Standing Committee on the Delivery of Legal Services Advisory Council.