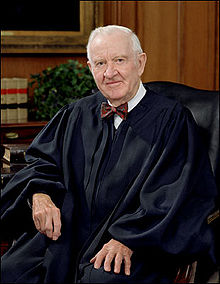 The Jury Center at IIT Chicago-Kent has been renamed in honor of former U.S. Supreme Court Justice John Paul Stevens. The announcement was made 0n October 3 at "An Afternoon with Justice John Paul Stevens," a program during which the former justice addressed an invitation-only audience at the law school.
The Justice John Paul Stevens Jury Center includes a website that serves as a clearinghouse for information about the jury for academics, students, judges, lawyers and members of the press and the public. This resource includes a selected annotated bibliography of recent articles on the jury as well as other special projects. In addition, the Justice John Paul Stevens Jury Center supports programming that fosters dialogue about the jury.
"We are thrilled and honored to name our jury center for Justice Stevens. The center's work will shed light on operation and functioning of the jury system in ways consistent with ideals of impartiality long espoused by Justice Stevens," said IIT Chicago-Kent Dean Harold J. Krent.
IIT Chicago-Kent Professor Nancy S. Marder, an internationally recognized expert on juries, is founder and director of the Justice John Paul Stevens Jury Center. Professor Marder is the author of The Jury Process (Foundation Press 2005), 36 law review articles, and a contributor to several books on the jury and on juries and judges in popular culture. She has given public testimony for proposed jury reforms, advocated successfully for rule changes affecting jurors in Illinois, and drafted jury instructions for the ABA. As Professor/Reporter for the Illinois Supreme Court Committee on Jury Instructions in Civil Cases since 2003, Professor Marder has helped to draft jury instructions for Illinois. She clerked for Justice Stevens from 1990 to 1992.
"Justice Stevens has always been a staunch supporter of the jury system," said Professor Marder. "In his judicial opinions, he has always tried to protect the jury's traditional roles in our democracy and to open up jury service to as broad a swath of the citizenry as possible."
"It is fitting to name the Jury Center in honor of Justice Stevens given his commitment to the jury throughout his long and distinguished career as a trial lawyer, Seventh Circuit judge, and U.S. Supreme Court Justice," she concluded.