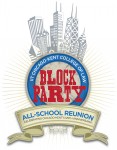 IIT Chicago-Kent's year-long 125th anniversary celebration continues with an All-School Reunion and Block Party from 11 am-8 pm on Saturday, September 28 in the 200 block of South Jefferson Street between Adams and Jackson streets.
The law school is hosting the event to bring together IIT Chicago-Kent alumni and their families for a day of entertainment, food and drink, and activities for the whole family. Students, faculty, staff, and members of the community are also encouraged to attend.
There will be prizes and surprises. Those who RSVP early will be entered into a special drawing for which winners must be present. The first 100 attendees will receive a special gift. Highlights of the event include "Reunion Row" for law school classes celebrating reunions, special recognition for couples who met and married at IIT Chicago-Kent, kid-friendly booths and games, and tours of the law school which is located at 565 W. Adams.
IIT Chicago-Kent's talented alumni bands will perform on the main stage. There will be performances by John Locallo '86, Carlos Vera '12 and their band "5-thirty"; Ed Harris '01 and friends; "Clandestine" featuring Tim Culbertson '95; and Richard Wilson '15 and the Loafers. DJ Bart Lazar '87 will play hits and oldies. Lagunitas Brewery founder Tony Magee will give a special musical performance.
Attendees will be able to enjoy samples of their favorite Lagunitas beers, provided by Tony Magee and Carissa Brader '91, and Cane & Abe Rum tastings, provided by Old Sugar Distillery. There will be food offerings from Par Bar & Grille, courtesy of Marc Smith and Mary Nicolau Smith '85, and Giordano's Pizza, courtesy of Richard Levy '97. There will also be food from Taco Burrito King, Al's Beef, Pazzo's, Calihan Catering and of course, the Spak cafeteria.
To RSVP, contact the IIT Chicago-Kent Alumni Association or call 312.906.5240. For more information, visit.