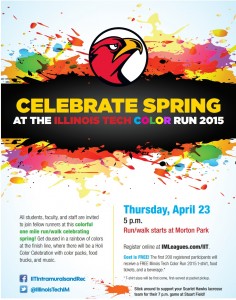 Intramurals and Recreation is hosting a Color Run to celebrate the end of the school year on Thursday, April 23, at 5 p.m. at Morton Park, just north of Hermann Hall. Participants are encouraged to arrive at 4:30 p.m. This is a one-mile Fun-Run/Walk on campus. The first 200 participants to sign up will receive a free t-shirt, food truck tickets, and a beverage.
Students, faculty, and staff are welcome to participate.
Sign up here. Click on "Color Run 2015."
Contact Courtney Budd at cbudd@iit.edu with any questions. More details can be found here.