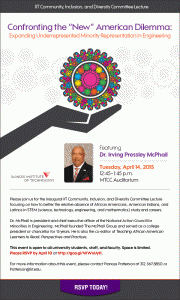 The inaugural IIT Community, Inclusion, and Diversity Committee Lecture, focusing on how to better the relative absence of African Americans, American Indians, and Latinos in STEM (science, technology, engineering, and mathematics) study and careers will be held on Tuesday, April 14, 2015 from 12:45–1:45 p.m. in The McCormick Tribune Campus Center (MTCC) Auditorium. The lecture will feature Dr. Irving Pressley McPhail.
Dr. McPhail is president and chief executive officer of the National Action Council for Minorities in Engineering. McPhail founded The McPhail Group and served as a college president or chancellor for 15 years. He is also the co-editor of Teaching African American Learners to Read: Perspectives and Practices.
For more information about this event, contact Frances Patterson at 312.567.8850 or patterson@iit.edu.
This event reflects the values expressed in IIT's Diversity Statement and is intended to promote diversity at IIT.