IIT Days are back at Six Flags Great America!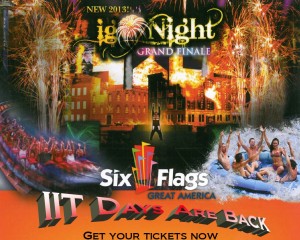 Tickets are available now for only $29 each and can be used on any one day during the period from Thursday through Monday, August 8–12.
Here are some frequently asked questions about IIT Days:
Q: How many times can I use my ticket?
A: Each ticket can be used one time.
Q: How many tickets can I buy?
A: There is no limit on the number of tickets you can purchase.
Q: Is there a deadline to purchase tickets?
A: Tickets can be purchased until Friday, August 9.
Q: Is parking included in the price?
A: No.
Q: Is transportation included?
A: No. We do not provide transportation.
Q: Does this price include the water park?
A: Yes, admission to Hurricane Harbor is included.
Q: Can I buy tickets on Saturday or Sunday?
A: Tickets can be purchased online at any time, but they must be picked up during office hours.
Q: Who can buy tickets?
A: Any IIT/IITRI faculty, staff or student can buy these tickets. For validation purposes, your IIT/IITRI email account should be used when contacting us.
Q: How can I pay for tickets?
A: You can now submit your payments online at the QWL payment site.
Q: I'm not at IIT Main Campus. How can I get my tickets?
A: For your convenience, you can arrange to pick up tickets at the IIT/IITRI Faculty and Staff Family Picnic. Please have a printed copy of your payment confirmation when picking up tickets.
For more information, please contact Leslie Goodloe at goodloe@iit.edu.