IIT Provost Alan Cramb presented this year's faculty teaching awards at the Faculty Recognition and Awards Reception on March 27.
University Excellence in Teaching Award:  Georgia Papavasiliou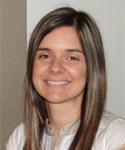 Georgia Papavasiliou is an assistant professor in biomedical engineering.  She has taught both undergraduate and graduate engineering classes with aplomb, focusing on teaching as mentorship.  When textbooks have not existed, she has not hesitated to fashion her own materials; and when the curriculum seemed limited, she has taken the initiative to develop a new course.  But, perhaps more important, students have admired and benefited from Professor Papavasiliou's patience and advice outside of class, whether about classroom materials or career choices.  Her efforts have helped create a vibrant home for students in the Biomedical Engineering Department.
Bauer Excellence in Undergraduate Teaching Award:  Michael Saelee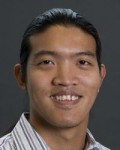 Michael Saelee, senior instructor in computer science, has inspired a half generation of computer science students.  He has taught a wide array of challenging classes to great acclaim.  Moreover, he has developed two new courses, Mobile App Development and Java Primer, and has also been a mainstay of the IPRO faculty.  Students have praised Professor Saelee's knowledge, enthusiasm, and incredible preparation.  Several labeled him a model for the entire university.  Simply, he has made undergraduates confident and competent in their pursuit of a CS degree.
College/School/Institute Excellence in Teaching Award Winners
Each college/school chooses a teaching award winner who is subsequently considered for the overall university excellence in teaching award. Congratulations to the following faculty winners from the respective college/school for their excellence in teaching:
College of Architecture: Catherine Wetzel
College of Science & Letters: Laura Hosman
Chicago-Kent College of Law: David Schwartz
Institute of Psychology: Eun-Jeong Lee
School of Applied Technology: Raymond Trygstad
Stuart School of Business: Weslynne Ashton
Provost Cramb also thanked the deans who served on the committee to review the nominations for the university awards:  Bob Carlson, Hal Krent and Donna Robertson.
The University and Bauer Award recipients will receive a monetary award; University, Bauer, and College/School teaching award winners received a plaque acknowledging their achievement at the Faculty Recognition and Awards Reception.