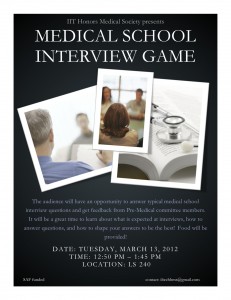 Want to know more about medical school interviews? Want to learn what to expect for those interviews?  IIT Honors Medical Society presents:
Interview Question Game
HMS will present our audience with typical questions asked at med school interviews and providing you, the pre-med student, a chance to answer these questions and get instant feedback from Pre-Med Committee members! It will be great time to learn more about what is expected at interviews, how to answer questions, and how to shape your answers to be the best!
Date: Tuesday, March 13, 2012
Time: 12:50-1:45pm (Lunch)
Where: LS 240
Free food will be provided!