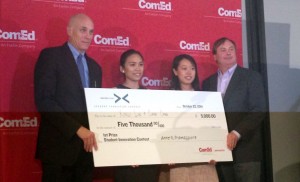 Congratulations to IIT Institute of Design students Szu Ying Ching, Hsin-Cheng Lin, and Xinli Li for winning the ComEd Student Innovation Contest and ID student Christina Noonan for being named a finalist.
The challenge for the contest was to envision a product, service, or software application that uses smart-meter data to help low-income customers better manage their electric bill and save money. They then created a four-minute video to explain their idea to ComEd.
Ching, Li, and Noonan presented before industry leaders and entrepreneurs at an award show on October 23 for a share of $10,000 in prize money.
Learn more about their work here.