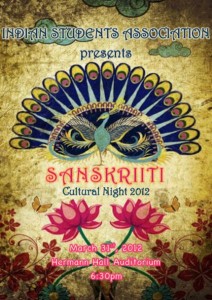 The show is finally here! IIT Indian Students Assocation (ISA) presents SanskrIITi – Cultural Night 2012.
Ready to see some amazing talent?  BHangra, fusion, vocal talent, mimicry!  ISA is hosting its biggest show of the semester: SanksriITI- Cultural Night 2012 and we would love you and your friends to come and be a part of the event to celebrate our glorious culture.
Location: Hermann Hall Auditorium
Date: Saturday, March 31
Time: 6:30 pm
Food will be served from 6:30 – 7 pm. Doors open at 7 pm for the show.
Tickets will be on sale from March 12 through March 29 for $5 ($7 non-IIT guests), limit two tickets per student ID.  You can pick up your tickets from Office of Student Life in MTCC.
Contact iltechisa@gmail.com with any questions about ticket sales.
All ticket sale proceeds will be donated to the Association for India's Development (AID).