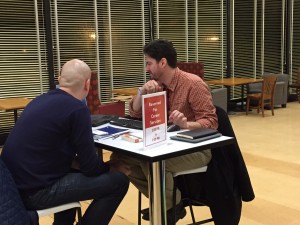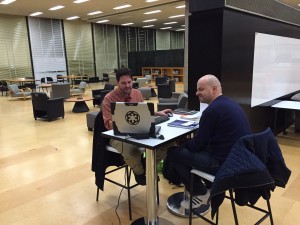 The IIT Career Management Center (CMC) is launching a new supplemental evening program to assist students with career readiness and post-graduation job searches. Starting Tuesday, January 13, Career Development Fellow W. David Work (PS '13) will be regularly available at the "Career Corner" on the upper level, north side of Galvin Library on Tuesday and Thursday nights from 4:30 p.m. to 9 p.m. to advise students on best practices for optimal post-graduation career placement.
Advising services include: résumé editing and proofreading; coaching on personal presentation and networking techniques; identifying viable career goals based on applicant background; targeted industry and position research; and informational resources available exclusively to IIT students and alumni.
IIT students and alumni are invited to either schedule an advisory appointment or meet Work on a walk-in basis on any of the following dates and times this month: January 13, 15, 20, 22, 27 and 29 from 4:30 p.m. to 9 p.m. Students are encouraged to make appointments via email at wwork@iit.edu to ensure prompt and ready service. Walk-ins will be served on a first-come, first-serve basis as schedule permits.
Work is an Illinois Tech alumnus, Presidential Scholar, and transfer-graduate of Harold Washington College, one of the City Colleges of Chicago. He is trained by the National Résumé Writers' Association and has work experience in a wide range of fields, including civil engineering, professional writing, academic research, web content and social media management, and secondary and post-secondary education. His curriculum vitae includes coursework in social sciences, architecture, and project data management in Geographic Information Systems (GIS).
"Everything we do in the Office of Student Access, Success and Diversity Initiatives and Career Services begins with our students in mind; this is just the beginning."