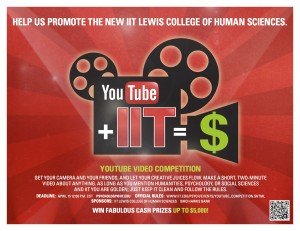 Help us promote the New IIT Lewis College of Human Sciences!  Get your camera and your friends and let your creative juices flow.  Win fabulous cash prizes up to $5,000! Make a short, two-minute video about anything as long as you mention humanities, psychology, or social sciences and IIT you are golden; just keep it clean and follow the rules.
The deadline for submissions is 12:00 pm CST on Friday, April 15.
Official rules are available here.  Contact psychology@iit.edu with questions.
Sponsored by IIT Lewis College of Human Sciences and BMO Harris Bank.