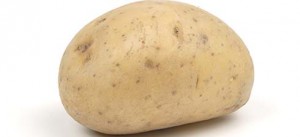 The IIT Potato Hunt deadline has been extended through Thursday, January 22 at 10 p.m.
IIT students, you may have heard the IIT Potato is the unofficial mascot of the university. Join in the fun and count how many IIT Potatoes you find inside The McCormick Tribune Campus Center (see image of the potato you need to find to the left, you will be looking for an image of a potato) starting on Tuesday, January 20, 2015.
Enter your information here to be entered to win a cool prize at the upcoming 125th Anniversary Kick-Off Event taking place on Friday, January 23 from 3 p.m.–6 p.m. in the Galvin Library. One lucky winner will be selected from all students that have the correct total number of potatoes. You must be present to win. Good luck and happy potato hunting.