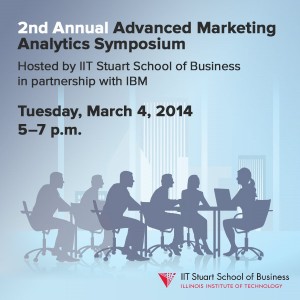 IIT Stuart School of Business and IBM present the second annual Advanced Marketing Analytics symposium from 5-7 pm on Tuesday, March 4, 2014 at the Downtown Campus Auditorium. Register today.
2.5 exabytes of data are created each day. 90% of the world's data was created in the past two years.
Who will leverage this rich resource to draw strategic insights and make better, data-driven decisions? What are the analytical skills needed to succeed in this growing job market?
Learn how IIT Stuart and IBM are responding to the upcoming shortage of forward-thinking analytic and decision management professionals, both in the marketplace and the public sector. Hear from a panel of industry experts on emerging trends, featuring keynote speaker Erick Brethenoux, Director of Business Analytics and Decision Management Strategy at IBM.
See some of the latest tools and uses of predictive analytics, and connect with professionals from IBM, the analytics industry, and IIT Stuart faculty, alumni, and students. Learn more.