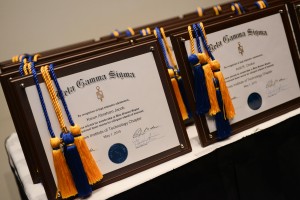 Congratulations to IIT Stuart School of Business Associate Professor of Operations Management Elizabeth Durango-Cohen and the more than 40 students for their induction into the Beta Gamma Sigma international honor society.
The ceremony was held on Friday, May 1. The IIT Stuart School of Business chapter also recognized John P. Calamos, Sr. (ECON '63, M.B.A. '70), founder, chairman, CEO, and global Co-Chief Investment Officer of Calamos Investments, LLC, in Naperville, Ill., as the Chapter Honoree.
Undergraduate students ranking in the top 10 percent and graduate students in the top 20 percent of schools accredited by AACSB International are eligible to be invited to join Beta Gamma Sigma, which represents the highest academic recognition a business student can receive anywhere in the world. View photos.
Master's Inductees
Karun Abraham Jacob
Changyue An
Yan An
Sai Prashant Boy Reddy
Yikai Chen
Amit Choksi
Chumeng Ding
Hang Gong
Hongxiang Guo
Ziwei Han
Bingqing He
Di He
Andrew Hosford
Yao Kuang
Yeshwanth Kumar Lanka
Pingshi Li
Wei Li
Xiaojing Li
Xinsheng Li
Ran Liu
Irene Loomis
Siyuan Luo
Barinder Mangat
Jiawei Mao
Luyan Ni
Eric Nichols
Siddhartha Pidhadia
Abhisekh Rana
Amanda Rosenberg
Evan Scott
Weisi Shao
Aditya Sharma
Ye Sun
Xiao Tan
Honglei Wang
Jiapeng Wang
Liyang Wang
Yaoyi Wang
Yi Xie
Yunbang Xu
Lin Zeng
Jialin Zhao
Xu Zhao
Yating Zhou
Bachelor's Inductees
Lisa Lee (junior)
Mayra Maldonado (senior)
Zachary Pergrossi (junior)
Rafal Wojtowicz (junior)
Shunyu Yao (senior)