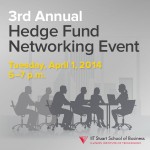 Join IIT Stuart School of Business for its 3rd Annual Hedge Fund Networking Event:
Tuesday, April 1, 2014
5-7 pm (program begins at 5:30 pm)
IIT Stuart Downtown Campus, Auditorium
565 W. Adams St., Chicago, IL 60616
Refreshments will be served.
Register by Friday, March 28
Hear from experts on the latest issues in today's financial markets, including:
Marat Molyboga, CFA, FRM, Adjunct Professor of Finance at IIT Stuart and Chief Risk Officer and Director of Research at Efficient Capital Management, discussing "Quant Edge in Portfolio Management"
David Hale, Founding Chairman and global economist at David Hale Global Economics, delivering a keynote address on global economic trends
Connect with professionals in the finance industry, and with faculty, students, and alumni from our globally-ranked finance programs. We look forward to seeing you there!