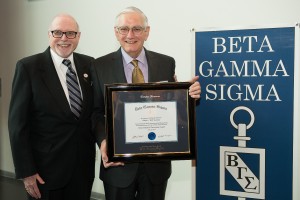 Congratulations to IIT Stuart School of Business faculty Nasrin Khalili and Liad Wagman, as well as more than 40 students, for their induction into international honor society Beta Gamma Sigma.
The ceremony was held on Friday, May 2, 2014. The IIT Stuart chapter also recognized Robert L. Growney (B.S. '74, M.B.A. '82), retired Vice Chairman, President and Chief Operating Officer of Motorola Corporation, as the 2014 Chapter Honoree (pictured with Stuart School of Business Dean Harvey Kahalas).
Undergraduate students ranking in the top 10 percent and graduate students in the top 20 percent of schools accredited by AACSB International are eligible to join Beta Gamma Sigma, which represents the highest academic recognition a business student can receive anywhere in the world.
Doctoral Inductees
Seungho Baek
Ghazale Haddadian
Hendrarto Supangkat
Master's Inductees
Omar Alsowilm
Tiago Baccarelli Justino
Ting Cai
Savitha Chelladurai
Liwei Dai
Cristina Del Real
Adam Doyle
Chitral Gandhi
Jesse Thomas Gaskin IV
Yue Guo
Ziyang Guo
Fenglin Huang
Arvind Kalyanasundaram
Ekawin Kungvalchokchai
Charles Lewis
Xiaoshan Lin
Sida Liu
Susan McCarthy
Matthew McGregor
Shimolee Nahar
Devon Nobles
Katianne Pechauer
Yinsi Qi
Junhan Shen
Baoyan Tang
Yang Wang
Patricia Wang
Janice Wong
Nansen Yang
Tingting Yang
Ali Yasir
Danyan Yu
Bohao Zhao
Bachelor's Inductees
George Batah
Yunhui Kim
Masa Lekic
Yitong Liu
Caren Ong
Neilia Pierre