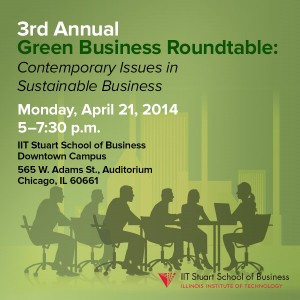 Join IIT Stuart School of Business for its 3rd Annual Green Business Roundtable: Contemporary Issues in Sustainable Business:
Monday, April 21, 2014
5 – 7:30 pm (program begins at 5:30 pm)
IIT Stuart Downtown Campus, Auditorium
565 W. Adams St., Chicago, IL 60661
Refreshments will be served.
Register today!
Keynote speaker:
Connie Lindsey: Executive Vice President, Head of Corporate Social Responsibility and Global Diversity & Inclusion, Northern Trust
Panel discussion:
Steven E. Avadek (M.S. EMS '98): Director and Global Head – Sustainability, Citi Realty Services, Citigroup
R. Mukund: CEO, Gensuite LLC, Software & Business Solutions
Somali Tomczak: Director – Regional Environmental, Health, & Safety, Nicor Gas, an AGL Resource Company
Ram Ramanan (moderator): Industry Associate Professor of Environmental Management and Interim Director, Center for Sustainable Enterprise, IIT Stuart School of Business
Don't miss this opportunity to network with industry leaders, as well as faculty, staff, students and alumni from the Environmental Management and Sustainability and Master of Business Administration programs.