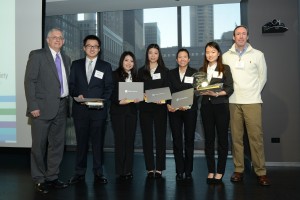 On Friday, February 6, IIT Stuart School of Business' team finished in first place against Benedictine University, DePaul University, Loyola University, Saint Xavier University, University of Illinois at Chicago, and University of Illinois Urbana Champaign in the local level final of the Chartered Financial Analyst (CFA) Institute's Annual Research Challenge.
Team members included Diana Olarnvoravuth (MSF '16), April Wang (MSF '15), Karen Wang (MSF '15), Yunbang Xu (MSF '15), Jialin Zhao (MSF '15), and team alternate Rohan Sathe (MSF '15), who contributed to the team's research and written report.
Students conducted extensive financial analysis on the featured company, CME Group, and presented their recommendations in a written report and presentation to a panel of expert judges.
The team will advance to the Americas Regional competition in Atlanta, Georgia, on Wednesday, April 15 and Thursday, April 16. This is the second consecutive year that the team has won the Chicago competition and advanced to the Americas Regional. In 2012, IIT Stuart's team won the Americas Regional to compete in the global final.
Michael Rybak, senior lecturer of finance, is the team's advisor.