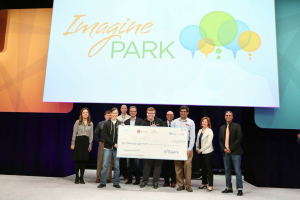 On Wednesday, May 6, six teams from the INTXHACK presented their innovative developments for a chance to win the grand prize of $10,000 and the hope of reinventing digital entertainment at the first-ever INTXHACK Finals. Adam Denchfield, a student at Illinois Institute of Technology pursuing a Bachelor's of Science in Applied Physics and Applied Math was a member of the winning team.
The first place team and winner of the $10,000 prize, 4K HAX, developed a customized application for viewing trailers online as well as an interactive "drinking game," so viewers can play along with their friends online in different locations.
"The open call hack is a very nice forum to meet people, share ideas and learn about new things. There are a lot of creative juices flowing and you get a lot more accomplished in 24 hours than if you were to do it by yourself. As a team you accomplish a lot," said Anand Setlur, Naperville engineer and 4K HAX team member.
"Industry leaders from across the country came to Chicago and witnessed the talent of up-and-coming developers and entrepreneurs," said Michael Powell, President and CEO of the National Cable & Telecommunications Association, who watched finalists pitch their products at the INTXHACK Finals. "The developments that these young innovators created in just 24 hours are a testament to the fresh thinking in the TV and internet industry."
Placing second and winner of $5,000, Ingrain, developed an application that embeds a virtual product placement into a TV show or movie, tailoring the experience to each viewer. The third place finalists and local Chicago team, VShare, winner of $3,000, developed a futuristic way for users to watch video content with their friends and family no matter where they are, using touch-free motion sensors instead of a remote control.
"Technology is totally transforming the way we create, deliver and consume media," said 1871 CEO Howard A. Tullman. "We were excited to facilitate some of this innovation within the digital entertainment and media industry during the INTX Hackathon at 1871, and we heartily congratulate all of the finalists on their success."
The finalists were chosen from a competitive pool of 11 teams after a grueling 24-hour weekend hackathon at 1871. They were challenged by the Internet and Television Expo, Comcast/NBCUniversal, Gracenote/Tribune Media and other business and technology leaders to create innovative applications around INTX themes including online video, gaming, advanced user interfaces and navigation.