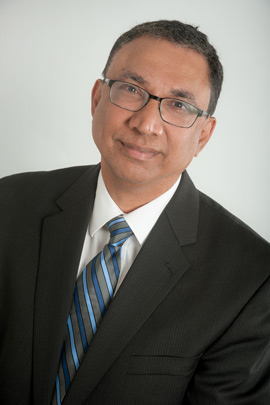 Ganesh Raman, deputy vice provost for research at Illinois Tech and professor in the Mechanical Materials and Aerospace Engineering Department, was named a fellow by the American Institute of Aeronautics and Astronautics (AIAA), the world's largest aerospace professional society. In announcing the names of the 2016 awardees, AIAA stated that fellows are "persons of distinction in aeronautics or astronautics, who have made notable and valuable contributions to the arts, sciences, or technology thereof. Being named an AIAA Fellow is one of the most prestigious honors in the field of aerospace engineering and the Fellows stand amongst some of the greats in the profession's history. Only one in 1000 AIAA members receives the distinction each year."
Raman has published fundamental studies on fluid dynamics and aeroacoustics: e.g., supersonic jet screech, coupling of shock containing jets, noise produced by cavities and impinging jets. He has developed/demonstrated miniature fluidic actuators for commercial aircraft applications. He has also had a significant impact by transitioning innovative concepts to practical aircraft applications. Raman designed/developed high control authority flow control actuators that are applicable at high speeds. He was a part of a Boeing/U.S. Air Force Team that successfully demonstrated flow control at supersonic speeds using a rocket sled at the Holloman Air Force Base.

Raman's contribution to engineering, science, and society is also notable because of 1) his ability to create technology for applications of national importance and 2) his strength in transitioning laboratory concepts to technology suitable for use in full-scale aircraft applications.
Raman is the founding editor-in-chief of the International Journal of Aeroacoustics and is also a fellow of the American Society of Mechanical Engineers and the Royal Aeronautical Society, UK.
AIAA will formally induct Raman as a fellow at the 2016 Aerospace Spotlight Awards Gala on June 15 in Washington, D.C.