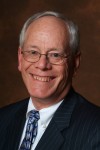 IIT Vice President of External Affairs and University Technology Park Executive Director David Baker was elected president of the Association of University Research Parks (AURP) Board of Directors. AURP made the announcement on September 20 at the 2012 International Conference in Madison, Wisc.
"International relations have always been important to David Baker and he was instrumental in the success of AURP's first international meeting which was held in Dublin, Ireland this year," said Eileen Walker, AURP  chief executive officer. "He understands the importance of building strong relationships with our colleagues around the world and will lead AURP in setting strategic objectives to further the association's international reach."
In his role at IIT, Baker is responsible for the university's governmental relations, technology park development, and trustee relations. Over the past 11 years, Baker has worked to create the University Technology Park at IIT of which he serves as executive director. He also helped open the Perspectives/IIT Math and Science Academy, a public grade 6-12 charter school in September 2008.
As AURP President, Baker plans to enhance the association's international presence and identify strategic objectives for the next five years.
"University research parks are driving economic growth around the world," said Baker. "We must partner beyond geographic borders to create knowledge, help grow companies and create high-wage jobs in our own communities."
At the annual conference, AURP also announced newly elected Board Members: Cameron McCoy of the University Research Campus at the University of Oklahoma, Jaime Parada-Avila of Instituto de Innovación y Transferencia de Tecnología de Nuevo Leon and Teresa McKnight of the Montana State University Innovation Campus.
Harold Strong of the University of North Texas received an appreciation award for his service on the AURP Board of Directors and Kevin Byrne of the University Financing Foundation received the Presidential Award for his service as AURP President.
About AURP: The Association of University Research Parks is a professional association of university related research and science parks. AURP's mission is to foster innovation, commercialization and economic growth through university, industry and government partnerships. For more information, visit AURP's Web site at www.aurp.net or contact Chelsea Simpson at chelseasimpson@aurp.net.