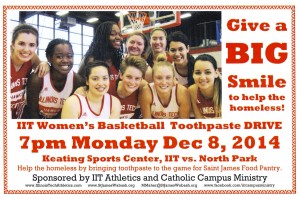 Give a big smile to help the homeless by bringing toothpaste to the IIT Women's Basketball game against North Park at 7 p.m. on Monday, December 8, 2014 at Keating Sports Center.
The donated supplies of toothpaste will be given to the Saint James Food Pantry.
The Basketball Toothpaste Drive is sponsored by IIT Athletics and Catholic Campus Ministry
This event reflects the values expressed in IIT's Diversity Statement and is intended to promote diversity at IIT.