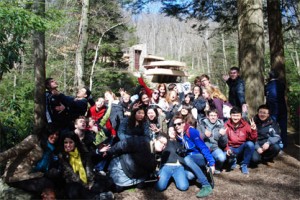 The American Institute of Architecture Students (AIAS) has awarded the Illinois Institute of Technology Chapter an Honorable Mention in the 2011-2012 Chapter Honor Awards. Awards were formally announced on July 22 at the AIAS National Grassroots Leadership Conference in Alexandria, Virginia, and will be conferred at the AIAS FORUM to be held in Savannah, Georgia, from December 29–January 1.
AIAS is a nationally run student organization, acting as the official voice of architecture students in both the educational system and the profession. The IIT chapter's mission focuses on a commitment to building relationships between the personal, academic, and professional facets of life in architecture related disciplines.
The AIAS Honor Awards were developed to publicly recognize outstanding achievements by students, educators and practitioners who have exhibited an exemplary commitment to the education and development of architecture students. The Chapter Honor Award is bestowed upon an AIAS chapter for its outstanding accomplishment in the conception, development and delivery of creative programs for its membership, faculty, administration, practicing professionals, and the public.
"Reflecting on the changes that have taken place since my involvement in AIAS three years ago, I am astonished and proud…iitAIAS went from a small club of twelve members to a flourishing and vibrant eighty member organization that speaks to the values of architecture and its practice," says former chapter president Ryan Gann. The award is a testament to the chapter's consistent growth within the past two years, following the chapter's previous 2011 Honorable Mention and recent successful bid to host the 2013 FORUM conference in Chicago. The chapter's faculty advisor Stephen Sennott lauded the chapter as "optimistic and effective, enthusiastic and organized, providing the college with meaningful dialogues and a shared commitment to the profession's global goals."
Contact aias@iit.edu if you are interested in becoming an iitAIAS member or want more information. Stay tuned for the future happenings of iitAIAS by visiting the chapter's website and Facebook page.