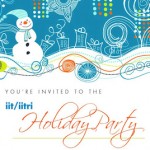 President John Anderson invites IIT and IITRI employees to the 2011 IIT/IITRI Faculty and Staff Holiday Party. Join co-workers and other members of the IIT/IITRI community to celebrate the holiday season.
The Holiday Party will feature: a delectable assortment of food items, two free drink tickets (with a full-price cash bar thereafter), raffle prizes, and dancing in The Bog. The Bog will also be available for bowling and billiards.
This year the university is supporting the Pacific Garden Mission to help provide a warm and wonderful holiday season for homeless people. Please consider donating new winter hats, scarves, and gloves or toiletries. Donation boxes will be set up at the party registration table. Please note that monetary donations will not be accepted.
Every employee who sent an RSVP for the holiday party by November 28 will receive a raffle ticket at the door. Individuals who bring a donation for the Pacific Garden Mission will receive a second ticket. The drawing will take place at 5:15 pm. You must be present to win.
Shuttle buses will be available to and from the party for Downtown Campus and the Institute of Design. The bus schedule will be posted in IIT Today closer to the date of the party.
If you are unable to get to Main Campus from Moffet Campus or Rice Campus and need a ride, please contact qwl@iit.edu. Thanks go out to the Quality of Work Life Committee in organizing this annual event.
Please be sure to bring your IIT/IITRI identification card for admission.
Shuttle Info
To Main Campus
Shuttle will pick-up at Institute of Design at 2:15 pm and Downtown Campus at 2:20 pm. Shuttle arrives at Main Campus between 2:45 – 3 pm. There will be a second Downtown Campus pick-up at 3:30 pm.
Return to Downtown Campus
Shuttle will pick up at Hermann Hall at 4 pm, 4:30 pm, 4:55 pm, 5:35 pm, 6 pm*, and 6:45 pm*
*Shuttle bus will make Union Station and Ogilvie Transportation Center stops prior to Downtown Campus stop.