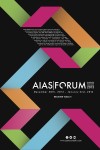 The IIT Chapter of the American Institute of Architecture Students (AIAS) invites students, staff, and faculty to attend the 58th AIAS FORUM which is a national conference for architecture and design students from Monday, December 30, 2013-Tuesday, January 2, 2014 at the Fairmont Millennium Park located at 200 North Columbus Drive. This forum is expected to draw more than 1,000 attendees.
Chicago has acted for many years as an incubator of thought on the visionary possibilities of architecture and design. It is with this mindset and exploration that has allowed professionals and those tangentially related to the field of architecture in Chicago to maintain an aggressive and forward looking approach. AIAS FORUM 2013 will be a chance for attendees to explore the dialogue of architecture in Chicago and become immersed in conversations re-evaluating the tectonics of the profession as we know it.
Topical content will feature an infusion of artists, entrepreneurs, design thinkers, and political leaders; shedding light on the multifaceted impact of the built environment; and answering questions such as: What is the architect of the future? What is the influence of design thinking? How do designers embrace a civic-minded agenda? What is the importance of a cross-disciplinary dialogue in education and practice?
Members of the IIT community interested in attending are encouraged to register by Friday, December 13, 2013 utilizing the promotional code "IITS."