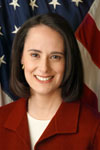 Illinois Attorney General Lisa Madigan will present an overview of issues related to medical applications at "Health on the Go: Medical Apps, Privacy and Liability," a one-day conference being held from 8:45 am-4:30 pm on Friday, April 4, 2014 in the Governor Richard B. Ogilvie Auditorium located at the Downtown Campus.
"Health on the Go: Medical Apps, Privacy and Liability" is sponsored by IIT Chicago-Kent's Center for Information, Society and Policy (CISP) in partnership with the University of Illinois at Chicago School of Public Health. Attendance is free of charge, but reservations are required. The program is eligible for 5.25 hours of IL MCLE credit.
"An increasing number of people, from consumers to health care providers and others, can retrieve medical data at the touch of a button or the swipe of a screen," said Lori B. Andrews, IIT Chicago-Kent distinguished professor and director of the Institute for Science, Law and Technology. "An estimated five hundred million people will use a health app by 2015. The use of these apps, websites, and social media for information have both great benefits and consequences.
"Our conference will bring together medical app developers, lawyers, regulators and health care professionals. We will explore the laws and regulations dealing with the collection and use of health information outside the health care system and the current federal and state investigations into data aggregation and medical apps."
Professor George J. Annas, chair of the Boston University Department of Health Law, Bioethics & Human Rights in the School of Public Health, will deliver the plenary address. Annas, who has written widely in the area of medical privacy in the face of new technologies and drafted a model Genetics Privacy Act, has been called "the father of patient rights," "the doyen of American medico-legal analysts," and a "national treasure."
Jonathan Zuck, president of the Association for Competitive Technology (ACT), which represents more than 3,000 application software developers in small- and mid-sized technology companies in the U.S. and Europe, will participate. Other speakers include Melanie Tiano, investigative counsel for the Senate Committee on Commerce, Science and Transportation; Erik Jones, an assistant attorney general and director of the Policy Bureau in the Office of Attorney General Lisa Madigan; attorney Scott A. Kamber, managing partner, KamberLaw, LLC; Professor Ben Gerber of the University of Illinois College of Medicine; M. Ellen Mitchell, professor and interim dean of IIT Lewis College of Human Sciences; Professor Yan Zhang of the University of Texas at Austin School of Information; and Sarah Blenner, director of IIT's Center for Diabetes Research and Policy.
Register online. For more information, email Colleen Canniff.
IIT Chicago-Kent's Center for Information, Society and Policy is a collaboration among public policy scholars at the law school and technology experts at the Illinois Institute of Technology. The center promotes interdisciplinary research about privacy and information security issues raised by developing information technologies. IIT Chicago-Kent and the UIC School of Public Health offer a coordinated program that allows students to earn a Juris Doctor (JD) and a Master of Public Health (MPH).