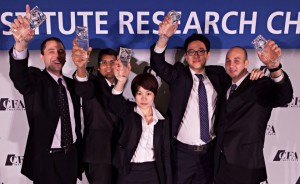 Illinois Institute of Technology Stuart School of Business team, representing CFA Society of Chicago, was named the winner of the Americas Regional final of the CFA Institute Research Challenge on Tuesday, April 10. The IIT team overcame competition from three other finalist teams: College of William & Mary; University of Hawaii – Manoa; and University of Waterloo to earn the title. The IIT team advanced to the global finale in New York, competing with the final four universities from the New York region, Asia Pacific, and the Europe, Middle East and Africa regions.
During Wednesday's final competition for the CFA Institute Research Challenge global title, the IIT team gave an oral presentation summarizing their research and recommendation of Zebra Technologies Corporation (NASDAQ: ZBRA) a company with an extensive portfolio of bar code, receipt, card, kiosk and RFID printers and supplies, as well as real-time location solutions.
IIT's path to victory began when they defeated eight teams in Chicago on February 16 to earn their spot in the Americas competition. On April 10, IIT's team faced-off against teams from 45 universities in the Americas Region, earning a spot in the Americas finals where they defeated teams from College of William & Mary; University of Hawaii – Manoa; and University of Waterloo. In the global finale on April 11 IIT faced teams from Rutgers University, Thammasat University, and Stockholm School of Economics. Thammasat University of Thailand, winner of the Asia Pacific, emerged as the global victor on Wednesday night.
IIT Stuart School of Business team members, Raghav Dubey, Ben Hurh, Xiaoyi Lei, Brian Rieger and Jason Strimpel worked with IIT faculty advisor Michael Rybak, CFA, and industry mentor Eric Wanger, CFA, on their winning project.
The team's research and conclusions were based on interactions with senior executives at Zebra, investment thesis and risks analysis, financial modeling, valuation, comparable benchmarking and scenario creation. All participants were introduced and held to the CFA Institute Code of Ethics and Standards of Professional Conduct.
The Research Challenge competition is an educational initiative that was established to promote best practice in research among the next generation of financial analysts, and to provide students with an insight into the investment industry. Additional information on the Research Challenge and its participants can be found on the CFA Institute website.
CFA Society of Chicago is the world's oldest investment analysts society. It was founded in 1925, with a membership of 4. Today, the society is the 6th largest society in the world, with more than 4,000 members. CFA Society of Chicago aims to be the premier local resource for Chartered Financial Analyst designees, candidates and other investment professionals. Specifically, the Society empowers a community of financial professionals and serves as a platform to: create programs, disseminate information, and provide services of direct benefit to members; promote adherence to the highest ethical and professional standards; and foster a culture of inclusion, diversity, and respect among investment professionals.