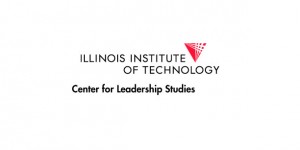 Illinois Institute of Technology is pleased to announce the establishment of the Center for Leadership Studies (CLS). Housed within Illinois Tech's Lewis College of Human Sciences, the center will expand the leadership training activities at the university.
The center was created to provide the programs and resources needed to create a culture supportive of identifying and developing emerging leaders throughout Illinois Tech's academic and alumni community, and to raise awareness of leaders developed at the university.
Planned CLS initiatives include creating a Minor in Leadership Studies available to all Illinois Tech undergraduates; offering professional development programs for local Illinois Tech alumni and technology companies; developing weekend speaker series for organizations in the technology and non-profit industries; and providing a Certificate in Leadership Development for all students who complete leadership development programs and activities.
"The center will combine the existing strengths of leadership development at the university," said Christine L. Himes, dean of Lewis College of Human Science. "We are excited for the Center for Leadership Studies and Lewis College of Human Sciences to play a central role shaping the leadership potential of the entire Illinois Tech community."
Illinois Tech has a long tradition of leadership training. In 2000, the university founded the M.A. and Lila Self Leadership Academy a rigorous development program that transforms exemplary Illinois Tech undergraduates into capable leaders and empowers them to inspire the same in others. The Leadership Academy will continue its programming for students under the umbrella of the CLS.
"The Leadership Academy's proven success, the expertise of our faculty in leadership studies and industrial/organizational psychology, and the university's technology-based environment, has created a strong foundation for the center to become a campus-wide repository and resource for the study and development of leadership," says George Langlois, executive director of the Center for Leadership Studies. "The center is uniquely positioned to gain a regional reputation for developing strong technical leaders equipped to deal with the various challenges in a multicultural, increasingly complex tech environment.
More information about the Center for Leadership is available at leadership.iit.edu.