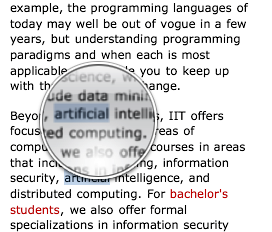 Linguistic analysis meets big data – and may change the way we understand each other – in a new software project that will seek to automatically analyze metaphors in different languages from huge quantities of online data. Combining techniques of high-performance data processing with sophisticated linguistic analysis, the project is expected to help us better understand how people in different cultures write, think, and see the world.
An international, interdisciplinary team of researchers led by Illinois Institute of Technology (IIT) Associate Professor of Computer Science Shlomo Argamon is developing a software system capable of identifying and understanding metaphors in multiple languages from very large amounts of data gathered from the Internet and other open sources. Called ADAMA (Autonomous Dynamic Analysis of Metaphor and Analogy), the project could have immediate applications in intelligence analysis, business intelligence, sociological research, and communication studies.
Intelligence Advanced Research Projects Activity (IARPA), a research arm of the Office of the Director of National Intelligence via the U.S. Army Research Laboratory, has awarded a contract for $1.4 million to IIT for the first year of metaphor research, with potentially four additional years to complete the project.
"How someone uses metaphor gives us a window into their worldview," Argamon said. "Whether someone refers to crime, for example, as a 'war' or as a 'disease' tells us something important about how they will think and behave."
On a broad scale, such information may aid national security by shedding light onto different cultures and ideological factions. These insights may help policymakers and military personnel better design linguistic methods for intelligence analysis.
"Getting at the deeper meanings encoded by metaphoric and figurative language is especially important for understanding messages and intentions of people in traditionalist societies," Argamon notes.
The IIT research team will develop software systems to identify, access and analyze relevant online documents in several languages. Psychological and cultural experts will assess the results to improve the accuracy and richness of the resulting metaphor collection. The software, including its assessment process, will be adaptable to different social science application areas, and, if proven successful, will significantly advance scientific understanding of the relationship between language and culture.
The ADAMA team includes neuroscientist Newton Howard, chairman and senior fellow of the Brain Sciences Foundation, and director of the synthetic intelligence laboratory at the Massachusetts Institute of Technology; information retrieval expert Ophir Frieder, the Robert L. McDevitt, K.S.G., K.C.H.S. and Catherine H. McDevitt L.C.H.S. Chair in Computer Science and Information Processing and chair of the department of computer science at Georgetown University; cognitive scientist Yair Neuman, professor  of education, Ben-Gurion University of the Negev; software engineer Mark Last, associate professor of information systems engineering and software engineering and head of the software engineering program, Ben-Gurion University of the Negev; learning theorist Moshe Koppel, professor of computer science, Bar-Ilan University in Israel; and Lt. Colonel (U.S. Army retired) David Johnson of the Center for Advanced Defense Studies in Washington, DC.