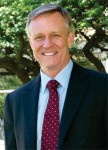 The Illinois Science & Technology Coalition (ISTC), a statewide organization that works to cultivate innovation and technology-based economic development in Illinois, this week announced that IIT President John Anderson has been elected chairman of its board of directors.
"I am honored that the members of this distinguished organization have asked me to represent them as chairman," said Anderson. "As an engineer, as well as the president of a technology-focused university committed to excellence in STEM education, I look forward to working with the board to find ways to make the state of Illinois a center for economic initiatives that have a science and technology base and focus."
In addition to Anderson, ISTC's current board includes:
Gerald J. Roper, President and CEO, Chicagoland Chamber of Commerce
Steve Johanns, Area Manager, Eaton Electrical
Mark Zanoni, Vice President of Information Technology Infrastructure, Comcast
Vince Kwasniewski, Vice President of Business Development and Commercial Director
Jeff Mays, President, Illinois Business Roundtable
John Larson, General Manager, Abbott Laboratories
Percival Barretto-Ko, Senior Vice President of Corporate Strategy and Government Affairs, Astellas US LLC.
"We are thrilled to have President Anderson join the Illinois Science & Technology Coalition Board of Directors," said Steve Johanns, who also serves on the board. "His proven leadership and strategic vision will be a great addition to the board as ISTC continues on its mission to keep Illinois a competitive and compelling state for growth in science and technology."
In addition to his current role at IIT, Anderson is a member of the National Academy of Engineering, a fellow of the American Academy of Arts and Sciences, and has been awarded a Guggenheim Fellowship. He previously served as co-chair of the Board of Chemical Sciences and Technology at the National Research Council and was named Person of the Year in 2009 by the Chicago Chapter of the Achievement Rewards for College Scientists Foundation.
The Illinois Science & Technology Coalition (ISTC) aims to cultivate economic development in Illinois by increasing resources for Research, Development & Innovation (RDI) initiatives at Illinois-based institutions and businesses. As the only organization representing the full range of science and technology activity in Illinois, the ISTC's mission is to foster public-private partnerships to develop and execute RDI projects, advocate for funding for RDI initiatives, and collaborate with public and private partners to attract and retain RDI resources and talent in Illinois.