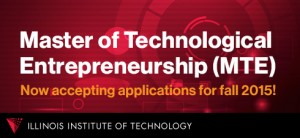 Illinois Institute of Technology is launching the Master of Technological Entrepreneurship (MTE), an innovative one-year graduate program designed to teach people with STEM backgrounds how to develop high-tech business ideas and convert ideas into successful startup ventures.
The MTE is the first program of its kind available in the Chicago area. Students in the full-time, one-year program will study alongside a cohort of fellow entrepreneurs within Illinois Tech's technology-rich environment and Chicago's vibrant entrepreneurial community.
"We designed the Master of Technological Entrepreneurship for both aspiring entrepreneurs and entrepreneurial executives who have backgrounds in science, technology, engineering and mathematics," said Krishna Erramilli, associate dean, professor of marketing, and director of graduate business programs in Stuart School of Business. "The interdisciplinary curriculum focuses on the business, design, innovation, and legal skills needed to establish, grow, and manage successful enterprises in technology-driven industries."
The MTE is a multidisciplinary program that combines courses from three of Illinoi Tech's top-ranked academic schools: the Institute of Design (ID), Chicago-Kent College of Law, and Stuart School of Business. It will offer courses on design thinking, prototyping, entrepreneurial law, and finance. The degree is composed of six core courses, two entrepreneurial electives, and one six-credit capstone/practicum for a total of 30 credit hours.
"Innovation and entrepreneurship are at the core of Illinois Tech's mission, and this collaboration between Stuart School of Business, Chicago-Kent College of Law, and the Institute of Design is one of many ways that the university continues to support and inspire entrepreneurial students," said Harvey Kahalas, dean of the university's Stuart School of Business. "We are thrilled to be a part of this partnership and excited for the opportunity to showcase Illinois Tech's strengths in technology and innovation here in Chicago's startup community."
The MTE program is currently accepting applications for the fall 2015 class.