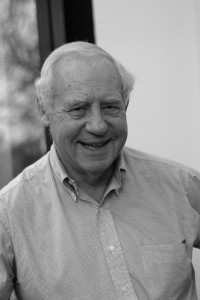 Edwin F. Stueben's life with Illinois Tech spanned 50 years and began with him receiving his bachelor's ('58), master's ('60) and Ph.D. ('63). He was Professor Emeritus at Illinois Tech, having been an associate professor and the associate chairman for the Department of Computer Science and Applied Mathematics, interim chairman for the Department of Applied Mathematics, as well as Vice President.
In the 1970s and early 1980s, he was responsible for seminal projects like IIT/V, a telecast of Illinois Tech credit courses, and actively involved from a mathematics perspective in E3, a precursor to the IPRO program, and the Minorities in Engineering Program. He was awarded the IIT Excellence in Teaching Award for the first time in 1972.
Stueben left Illinois Tech for a brief period (January 1981 to January 1984) to serve the University of Minnesota as associate dean in the Institute of Technology, but returned to Illinois Tech as vice president responsible for Admissions, Financial Aid, and Student Affairs. In this new role, he was able to further assist the Minorities in Engineering Program from a position of authority.
In the late 1980s, Stueben was responsible for the development of Illinois Tech's Daniel F. and Ada L. Rice Campus and served as its first vice president from 1989 to 1993.
He returned to Illinois Tech's Mies (Main) Campus in 1993 serving as associate professor of mathematics with administrative responsibilities in the mathematics department, and continuing his passion for the quality of undergraduate education. He was presented the IIT Excellence in Undergraduate Teaching Award for the second time in 2005, his final year before retirement.
Stueben was honored with the Illinois Tech Alumni Service Award in 2008.
He met his wife Peggy at Illinois Tech in 1970 and both were thrilled with the birth of their son Bill after almost 20 years of marriage. Ed was a natural, amazing father, and found no greater joy than being with Bill. Ed had many interests including family international travel, gourmet cooking and entertaining, Lyric Opera and London theater performances, and World War II history.
A celebration of Ed's life will be held at the Robert F. Carr Memorial Chapel of St. Savior on the Illinois Tech campus on 32nd Street just west of Michigan Avenue, on Saturday April 23, 2016, from noon to 3 p.m.