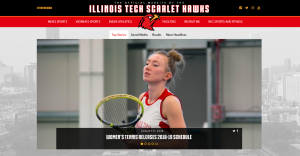 Illinois Institute of Technology is proud to announce the launch of the newly redesigned Scarlet Hawks website, as well as its continued partnership with PrestoSports, the software and design company that built the website. The site's new interface provides major visual improvements and improved convenience with website navigation.
"PrestoSports is excited to support Illinois Tech through the launch of its redesigned athletics website," said Keith Womack, president of PrestoSports. "The custom design and new features offer Scarlet Hawk fans an enhanced experience across all desktop and mobile devices."
The fresh site will continue to provide news releases, game recaps, and general information about Illinois Tech Athletics, including the university's student-athletes and sports programs. In addition, the site will offer an increased emphasis on social media and visual content integration, further promoting Illinois Tech Athletics' programs and the student-athlete experience. PrestoSports, which offers the best design and technology in online sports, engineered the launch using the most modern concepts and principles at its disposal.
In addition, the new website offers increased mobile compatibility on both Apple's Safari and Android's web browsers. Because of this increased efficiency, the Scarlet Hawks Front Row app has been discontinued.