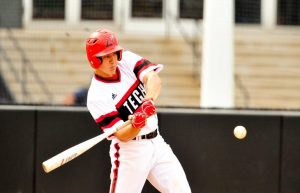 The Illinois Tech Baseball team played a doubleheader on April 23 at Rockford University. The Scarlet Hawks were defeated in both contests, losing 9-5 and 11-4.
How it Happened – Game One
Rockford jumped out to the early lead, scoring once in the first and twice in the third to take a 3-0 advantage. 
In the top of the fourth, the Scarlet Hawks were able to make some noise. Christian Lopez drove in a run on a bases loaded hit by pitch before an Orlando Cardenas-Juan RBI single made the score 3-2.
After Rockford increased the lead to 4-2 in the bottom half of the inning, Jonathon Wilcox singled in a run in the top of the fifth to get the run back.
Rockford would gain separation, scoring three times in the fifth inning and twice in the eighth. Illinois Tech added two more runs on a Kyle Bumpass walk in the seventh and on a wild pitch in the ninth.
Scarlet Hawk Standouts – Game Two
Lopez had a banner day, reaching base in all five of his plate appearances. The left fielder was four-for-four with two doubles, an RBI, and a hit by pitch.
Cardenas-Juan was two-for-five with a triple and an RBI single.
James Tarala went 7.1 innings, allowing five earned runs.
How it Happened – Game Two
Rockford started the game in similar fashion to game one, taking a 3-0 lead after two innings.
Illinois Tech scored its first run of the day on a Regents error in the top of the third, but Rockford was able to get the run back in the bottom half of the inning.
The Regents revved up the offense in the middle innings, taking an 11-1 lead through five.
In the top of the seventh, the Scarlet Hawks plated three runs. Christopher Dornan hit a pinch-hit single, later coming around to score on a throwing error. Both Wilcox (double) and Lopez (single) had two-out RBI hits as well.
Scarlet Hawk Standouts – Game Two
Kevin Hildreth (1.0 innings), Evan Sexsmith (0.1 innings), and Jacob Geiger (2.2 innings) pitched scoreless baseball out of the bullpen.
Wilcox reached base three times, going one-for-two with the RBI double and two walks.
Up Next
The Scarlet Hawks will host Dominican University on Wednesday, April 26. The game is set for a 3 p.m. first pitch at Ed Glancy Field. Live audio, video, and stats will be available. The live broadcast will be powered by Illinois Media School.