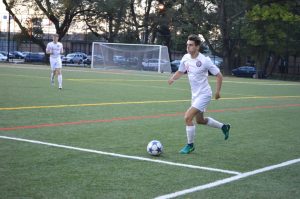 The Illinois Tech Men's Soccer team played against the Maranatha Baptist Sabercats at a windy and rainy Stuart Field on October 7. Taking on MBU for the second time this season, Illinois Tech came out victorious 4-1. The team then shut out Grace Bible on October 9 for its' sixth straight win.
How it Happened – Maranatha
In MBU's first real chance, Eric Fausto scored off of a rebound in front of the net to give the Sabercats a 1-0 lead just under 10 minutes into the match.
The Scarlet Hawks responded with two goals in less than a minute's span. Christopher Reed tallied from the left side of the field through traffic to tie the score before a beautiful set-up pass from Zachary Whritenour found Brandon Bortei-Doku right in front of the net for a direct shot to take a 2-1 advantage in the 20th minute.
Bortei-Doku started the second half scoring for Illinois Tech after a nice close-range pass from Reed set-up a spin move that shook the defense. He then skipped it past the keeper for a 3-1 Illinois Tech lead.
However, Bortei-Doku was not done. In the game's final stages, Mark Dhom delivered a nice lead pass to give Bortei-Doku a clean look, which he converted for a hat trick.
Scarlet Hawk Standouts
Bortei-Doku tallied a hat trick on five shots (four on net).
Reed had a goal and an assist.
Whritenour tallied an assist.
Dohm chipped in his first collegiate assist.
Stats to Know
The outshooting streak continued for Illinois Tech, as the Scarlet Hawks outdid the Sabercats 19-4 in the category. Illinois Tech has out shot the opponent in 10 of 11 matches and has yet to be out shot this season.
Maranatha lost despite not committing a foul. Illinois Tech committed eight.
Illinois Tech had six corner kicks while holding MBU without one.
How It Happened – Grace Bible
Illinois Tech dominated the first half, creating several scoring opportunities and pressuring the Tigers' goaltender, Jake Larson, with five shots on goal. The front attack of Norikazu Honda, Reed, and Bortei-Doku was effective, playing most of the first half and producing 14 shots in the first period.
After some sustained pressure to begin the second period, Grace Bible's defense began to tire. Illinois Tech picked up where they left off in the first half and eventually broke through the Tigers' line. Michael Podsiadly had the first goal of the game on a header in the 68th minute after a corner kick and multiple rebounds. Oluwaseun Ogunsanya assisted on the goal.
Reed put the game away late with an unassisted breakaway goal that got past Larson on a tipped header and left the net vacant. Bortei-Doku, Honda, and Reed were able to out-hustle the Tigers for the duration of the match.
Scarlet Hawk Standouts
Reed scored a goal with two total shots on goal.
Podsiadly scored with his only shot on goal.
Honda and Noah Kwortnik both added three shots on goal.
Bortei-Doku also added two shots on goal.
Stats to Know
The Scarlet Hawks outshot the Tigers 23-5.
Saves were in favor of Illinois Tech (9-2).
Illinois Tech dominated corner kicks 14-1.
The Scarlet Hawks are now 8-3-1 after winning six straight games.
Up Next
The Scarlet Hawks will travel to Andrews on Friday, October 13 for a 3 p.m. match.