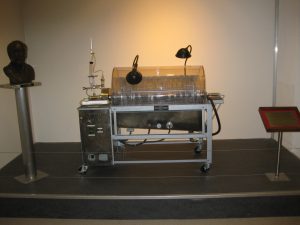 In 2008-2009, 13 students and three faculty members from the Department of Biomedical Engineering at Illinois Tech built a full-scale working replica of the Brigham-Kolff dialysis device in a special project class. This second generation dialysis design was built between 1947 and 1970 by Edward Olson in Ashland, Mass., and was based on the original Willem Kolff rotating drum dialysis machine from 1943. This particular project was modeled after a 1954 machine housed in the National Museum of Health and Medicine in Silver Spring, Md. The finished machine was presented to the Kolff Foundation of Kampen in a ceremony hosted by the Department of Biomedical Engineering at the University of Groningen in the Netherlands.
The project began with faculty and students visiting the National Museum and working with staff to generate a set of plans. Students learned the necessary machining and metal forming skills along with the appropriate engineering analysis of mass transport and fluid dynamics in the first semester. Construction began in December and was completed in June 2009.
The Brigham-Kolff device is now permanently on display on the main floor of the Medical Education Building at the University Medical Center at the University of Groningen. It has its own special place near a garden and other works of art. It is exhibited with a bust of Willem Kolff donated by Don Olson, DVM, who worked with Kolff for 35 years.
The undergraduate biomedical engineering students were: Mukarram Amine, Muhammed Fazeel, Faye Garfinkle, Phaedra Howe, Daniya Kamran, Danielle Madera, Christian Osswald, Dan Tian, and Mei Wang; the biomedical engineering graduate students were: Christopher Jones, Michael Turturro, Dan Crandall, and Antonis Antoniou.  The biomedical engineering faculty included Connie Hall, Paul Fagette, and Vincent Turitto (currently at Illinois Tech ). Hall, now at The College of New Jersey, and Fagette, retired, are visiting professors in the biomedical engineering department at the University of Groningen for the fall semester of 2016.