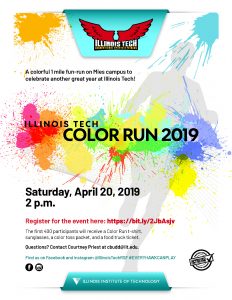 Register today for the 2019 Illinois Tech Color Run hosted by Recreational Sports and Fitness. Inspired by the Indian festival of Holi, this is a fun and colorful 1-mile run/walk on Mies Campus to celebrate another great year at Illinois Tech!
Color powder will be thrown into the air throughout the course. At the conclusion of the fun, we will do our annual Color Toss! The first 400 participants to sign up will receive a Color Run T-shirt, sunglasses, and a food truck ticket.
The event will be held on Saturday, April 20 at 2 p.m. Register at https://bit.ly/2JbAsjv.