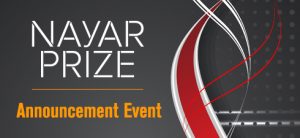 Peter Kilpatrick, Illinois Tech provost and senior vice president for academic affairs, extends a special invitation to the Illinois Tech community:
On Wednesday, February 6, Illinois Tech will make an exciting public announcement about our two Nayar Prize competitions at a special event that will be held at 1 p.m. at the Ed Kaplan Family Institute for Innovation and Tech Entrepreneurship's Morgenstern Pitch, with a reception to follow. These competitions have involved many faculty and students at the university. Their work represents the university's excellence in bold, interdisciplinary research that holds the potential to create lasting change in our society. I hope you will show your support for these professors and their student-researchers by attending this event.
We will announce whether the ADEPT Cancer Imager team, the finalist of Nayar Prize I, has successfully achieved the benchmarks/performance metrics that it established and that the Nayar Prize Steering Committee approved. If successful, the team will receive the final $500,000 award. Composed of Kenneth Tichauer (biomedical engineering), Jovan Brankov (electrical and computer engineering), and Rajendra Mehta (biology/IIT Research Institute), the ADEPT team has been working to develop a new imaging system that is capable of spatially mapping the variable characteristics of cancers at the cellular level.
We will also announce which of the two Nayar Prize II Phase 2 finalists will move on to Phase 3. One team will be selected to receive $100,000 and continue its research for an additional year. If the team achieves its benchmarks after that time, it will receive the final $500,000 award. The two Phase 2 finalists in contention for Phase 3 funding are the Microfluidic Drug Microbiota Interaction Platform team, composed of Abhinav Bhushan (biomedical engineering), Genoveva Murillo (IITRI), and Rajendra Mehta (biology/IITRI); and the Data-Driven Crime Prevention team, consisting of Miles Wernick (electrical and computer engineering), Lori Andrews (Chicago-Kent), and Yongyi Yang (electrical and computer engineering).
We remain grateful to alumnus and Trustee Madhavan Nayar (M.S. IE '68), his wife, Teresa, and the Nayar Family Foundation for funding this competition. I would also like to thank the steering committee members for their continued contributions to the selection process.
A live stream of the announcement event can be found at https//www.youtube.com/watch?v=RII1r-Nc03Q.