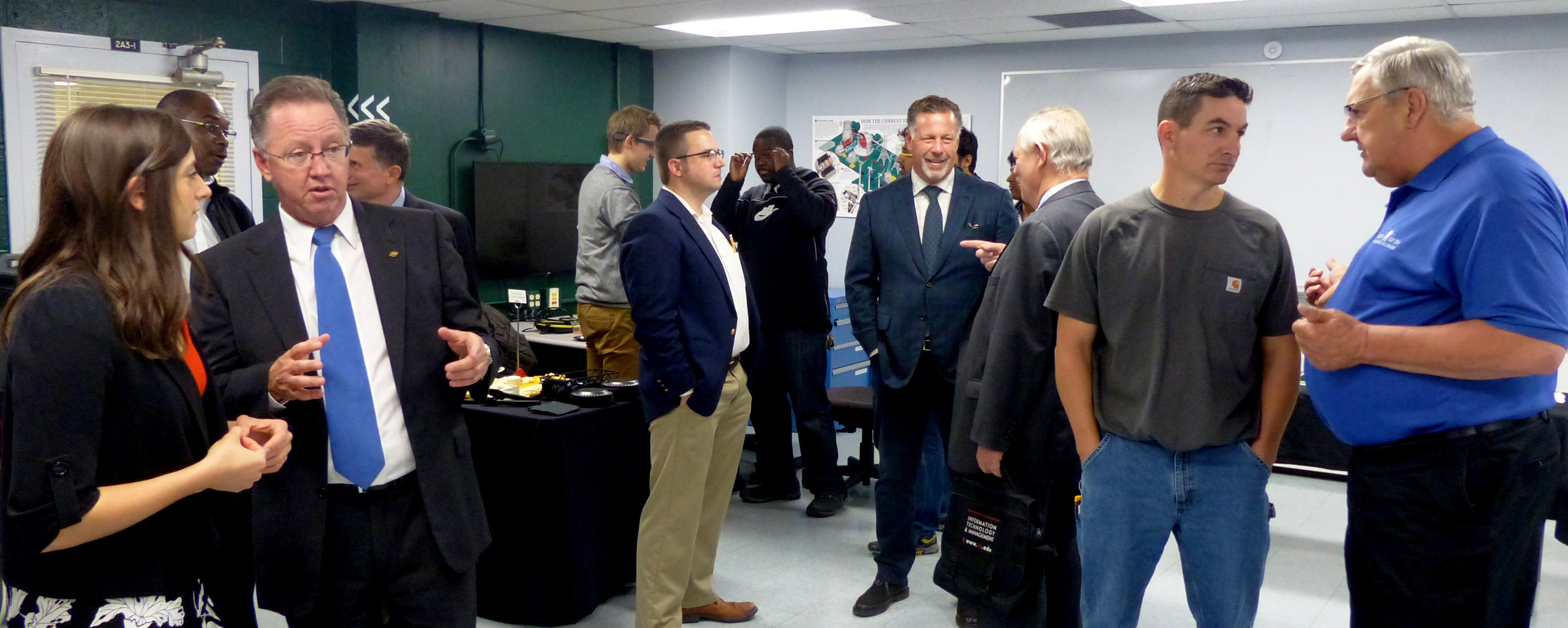 The Illinois Tech School of Applied Technology dedicated their new Smart Tech Lab on October 13. The Smart Tech Lab at Illinois Tech is one of the first of its kind offering students interested in embedded systems, wireless technologies, and green energy sustainability a state-of-the art facility. The lab is used by the departments of Information Technology and Management (ITM), Industrial Technology and Management (INTM), and the Illinois Tech NECA Student Chapter. Robert Carlson, dean of the School of Applied Technology, hosted the lab opening event, along with Industry Associate Professor and Smart Lab Director, Jeremy Hajek, and Dan Tomal, Ph.D., INTM adjunct faculty and Illinois Tech NECA student chapter facilitator.
Attendees at the event included many of the donors from industry and within Illinois Tech who contributed significant financial and material resources, as well as time, equipment, and expertise to make this lab a reality. This list includes: Clune Construction Company; Graybar; Gurtz Electric; IDEAL Industries, Inc.; Kelso-Burnett Co.; Lutron Electronics Company, Inc.; ComEd; EAL Green; Grainger; Electrical Contractors Association of City of Chicago; IBEW Local 134, and members of the IIT-NECA Student Chapter and Illinois Tech's departments of Facilities, Planning, Design, and Construction; and the Office of Technology Services.
In addition to the five large LCD digital wall monitors, LED ceiling fixtures, and the Crestron instructional digital media, the Smart Tech Lab features a display of the technologically advanced Audacy building automation system—a similar system that controls lighting at Wrigley Stadium. The Lutron Graphic Eye wireless lighting system controls the three lighting zones in the laboratory with built in occupancy and vacancy sensors. "These systems are truly a great example of a technological and energy efficient building automation," said Carlson.
"The students in the ITM Embedded Systems Program have already developed an array of projects using single-purpose, small computers to give digital and analog sensors intelligence to control specific tasks and functions," explains Hajek. Some examples of projects include: a mesh networked and solar powered environmental sensor platform, smart concrete cure system, a Google glass display for viewing environments data, an automated movement of Quadcopters, a home automation prototype application, and an electrical vault monitoring system.
The NECA Student Chapter students will use the lab for activities related to their participation in NECA's Annual Green Energy Challenge, and INTM students will have access to the technology for their coursework in embedded systems, energy efficiency, and sustainability. It will also serve as a university facility for hosting industry meetings and events.
Learn more about Illinois Tech's Smart Tech Lab at http://appliedtech.iit.edu/smartlab.
Learn more about student projects conducted in the Smart Tech Lab here.
See pictures from the Smart Tech Lab dedication here.