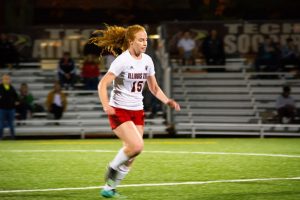 The Illinois Tech Women's Soccer team notched a 13-1 victory against Alverno on October 6. The Scarlet Hawks (9-2-1, 4-1 NACC) outshot the Inferno (4-9, 0-6 NACC), 58-5.
How It Happened
After Alverno tied the match 1-1 in the 11th minute, Illinois Tech outscored the Inferno 12-0 the rest of the match.
Jamie Griggs added her second, third, fourth and fifth goals of the season.
Erin James scored her first two goals of the season.
Kirsten Robinson recorded her first goal of the season in the 18th minute.
Katherine Nishimoto found Julia Taliana in the 56th minute as Taliana recorded her fifth goal of the season to give Illinois Tech a double-digit lead.
Illinois Tech goals leader Katie Hoefgen added her 14th goal of the season in the 62nd minute to give the Scarlet Hawks the 12-1 lead.
Scarlet Hawk Standouts
Griggs scored a hat trick with four goals and recorded 10 shots (seven on goal) which led the Scarlet Hawks.
James picked up two goals.
Despite only one goal, Hoefgen recorded seven total shots.
Goalkeeper Caitlin Kenoian posted a shutout in the second half and recorded three saves.
Despite allowing one goal, Catherine Klemp had a powerful offense behind her to pickup the victory.
Up Next
Illinois Tech will face Marian (Wisconsin) on Wednesday, October 10 at 6 p.m. at Stuart Field.