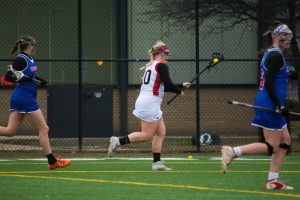 The Illinois Tech Women's Lacrosse team dropped the second game of the season 15-4 to the Kalamazoo Hornets on March 3.
How it Happened
In the first eight minutes of play Alyssa DeLuca notched a goal after an assist from Madison Meredith.
Kalamazoo countered quickly with Sam Jacobsen recording two goals within the next two minutes with assists from teammates Amanda Moss and Jenna Wolf.
After another 10 minutes of play, the Hornets' Rachel Madar scored a goal while Moss recorded another assist on the play.
Within a minute of each other, Kalamazoo's Hannah Meyers put an unassisted goal on the board followed by two more goals from Meyers, putting the Hornets up 6-1 with five minutes to play in the first half.
The Scarlet Hawks finally answered the Hornets' attack with a goal by Shanie Scoles on a free position shot, making the score 6-2 with two minutes to play in the first half.
Kalamazoo finished the half strong with two goals from Lilly Baumann and the visitors led 8-2 at halftime.
Madar and Jacobsen picked up where they left off for Kalamazoo to begin the second half with a goal each, extending the lead to 10-2 in the early stages of the second half.
DeLuca and Meredith teamed up again for a goal in the fifth minute of the second half.
Shortly thereafter, the Hornets reached 12 goals with Moss and Madar scoring within two minutes of each other.
Scoles tallied another goal from Mallory Tognetti to make the score 12-4 halfway through the second period.
The Hornets' Madar, Baumann, and Jordan Reichenbach all scored in the last ten minutes of the match to secure the win for Kalamazoo.
Scarlet Hawks Standouts
DeLuca finished with two goals on four shots plus a ground ball and two draw controls.
Scoles had two goals on four shots. She also had a ground ball and a caused turnover.
Meredith had two assists, six ground balls, three caused turnovers, and two draw controls.
Tognetti recorded an assist, two ground balls, and a caused turnover.
Stats to Know
Kalamazoo held a 26-14 lead in shots.
The Hornets also led in draw controls (14-6) and ground balls (17-15).
Illinois Tech committed too many turnovers, yielding possession 23 times to Kalamazoo's 16.
Up Next
Illinois Tech will travel to Hope College on Tuesday, March 6 for a 5 p.m. match in Holland, Michigan.